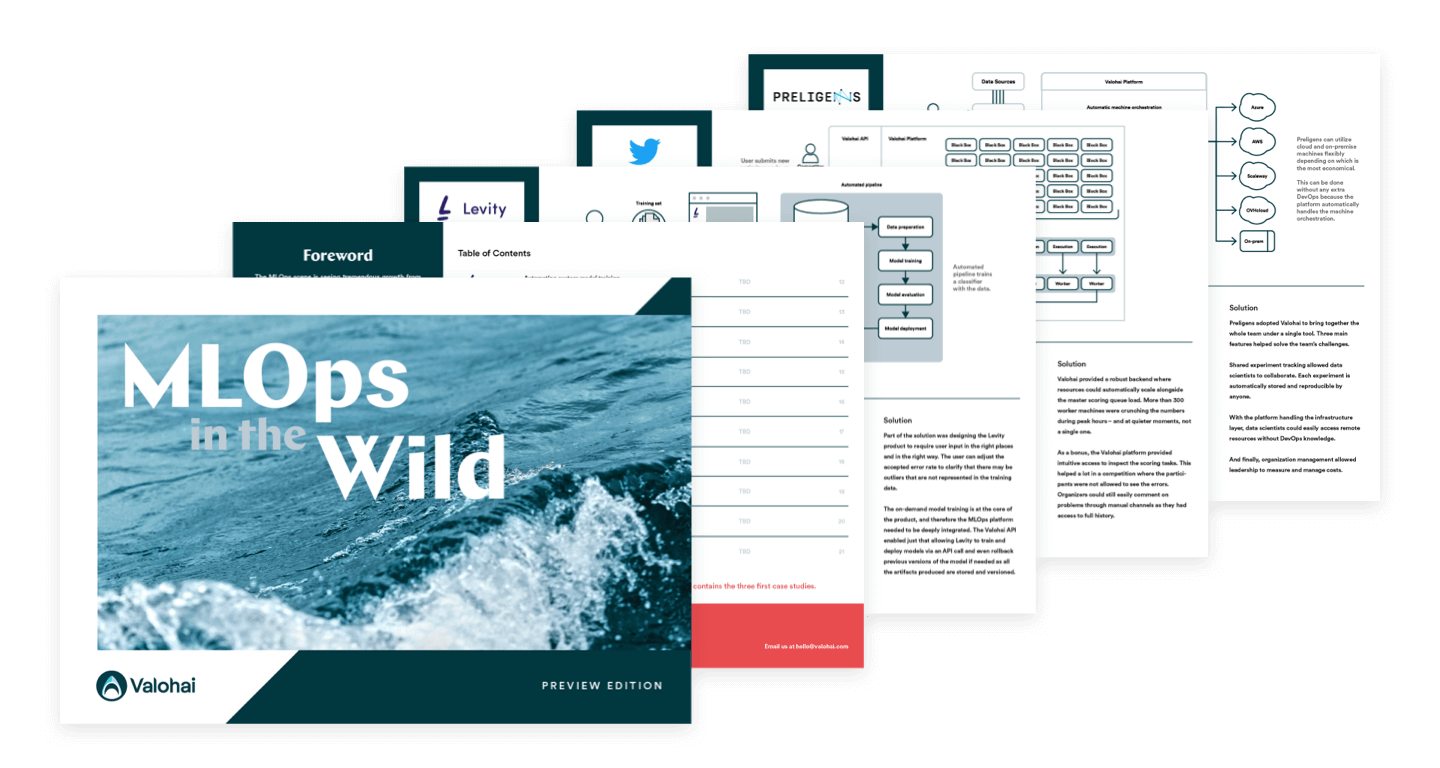 Free eBook Preview
MLOps in the Wild
A collection of MLOps case studies
Get the eBook preview with the first four case studies.
Foreword
The MLOps scene is seeing tremendous growth from all sides. Data scientists and machine learning engineers are looking for better ways to work. Looking at Google search volume for MLOps shows a growth trend that really kicked off in late 2019 and continues to accelerate. In November 2020, we released an eBook on MLOps and so far we've had over 2300 individuals download it. This enthusiasm exceeded our expectations and highlights for us the demand for machine learning operations.
This demand is met, and probably at this point, exceeded by supply for different MLOps solutions. A community-led effort to collect all the different tools in the space produced a list of over 330 different MLOps tools. Although these tools address different problems and use cases, the list is simply staggering.
This brings us to this eBook: MLOps in the Wild. Many of the data science teams we speak to know they have a need for tooling but pinpointing what they need exactly is more difficult. The MLOps space is still in its infancy and how solutions are applied varies case by case. We felt that we could help by providing examples of how companies are working with tooling to propel their machine learning capabilities.
We wanted to keep these case studies short, skimmable and inspirational. Think of this as a lookbook for machine learning systems. You might find something that clicks and opens up exciting new avenues to organize your work – or even build entirely new types of products.
Disclaimer This is a preview edition of the MLOps in The Wild and only contains the three first case studies. As a reader of this edition, we would love to hear your feedback:
What kind of cases would you like to see?
Do you have a case you would like to contribute?
Email us at hello@valohai.com
---
With case studies from:
Haven't heard of Valohai yet?
Valohai is the last MLOps platform you'll ever need. The platform allows you to build end-to-end ML pipelines that automate everything from data collection to deployment while tracking and storing everything.
Book a demo
Learn more