The MLOps Platform
Turning your workflow from 😤 to 😎
Valohai is all about taking away the not-so-fun parts of machine learning. Managing cloud instances and writing glue code is neither valuable nor fun. Our platform does that for you.
And if that's not magical ✨ enough, trying out the platform will be.
LEGO Group
Power tools for a power user 🛠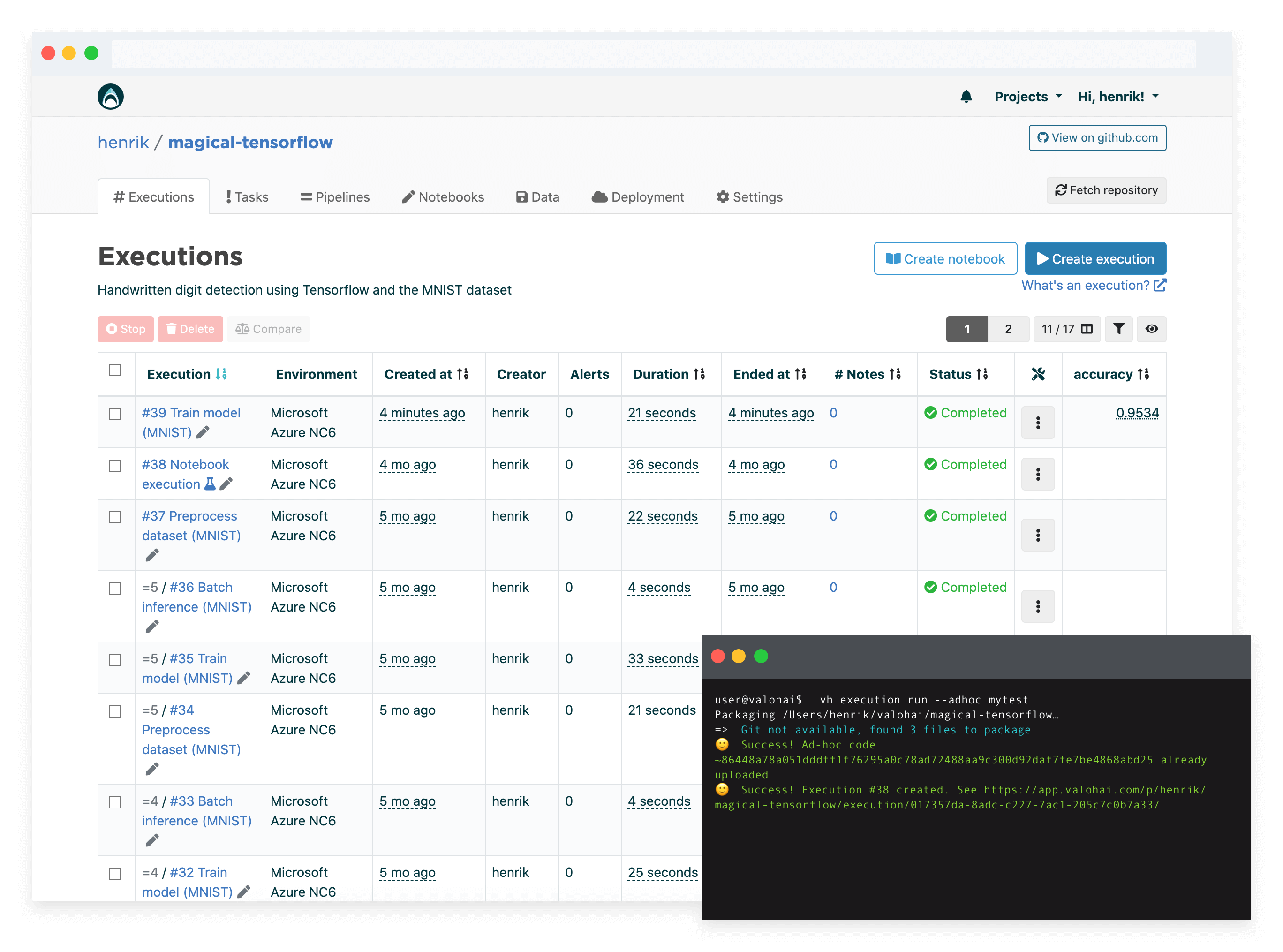 Managed Machine Learning Infrastructure
Concentrate on Models, Code, and Data. The Valohai Platform allows you to easily run on the powerful cloud machines with a single click (UI) or a single command (CLI & API).
Valohai can be set up on any cloud vendor or on-premise setup to automatically orchestrate machines so you don't need to worry about spinning up and shutting down costly resources.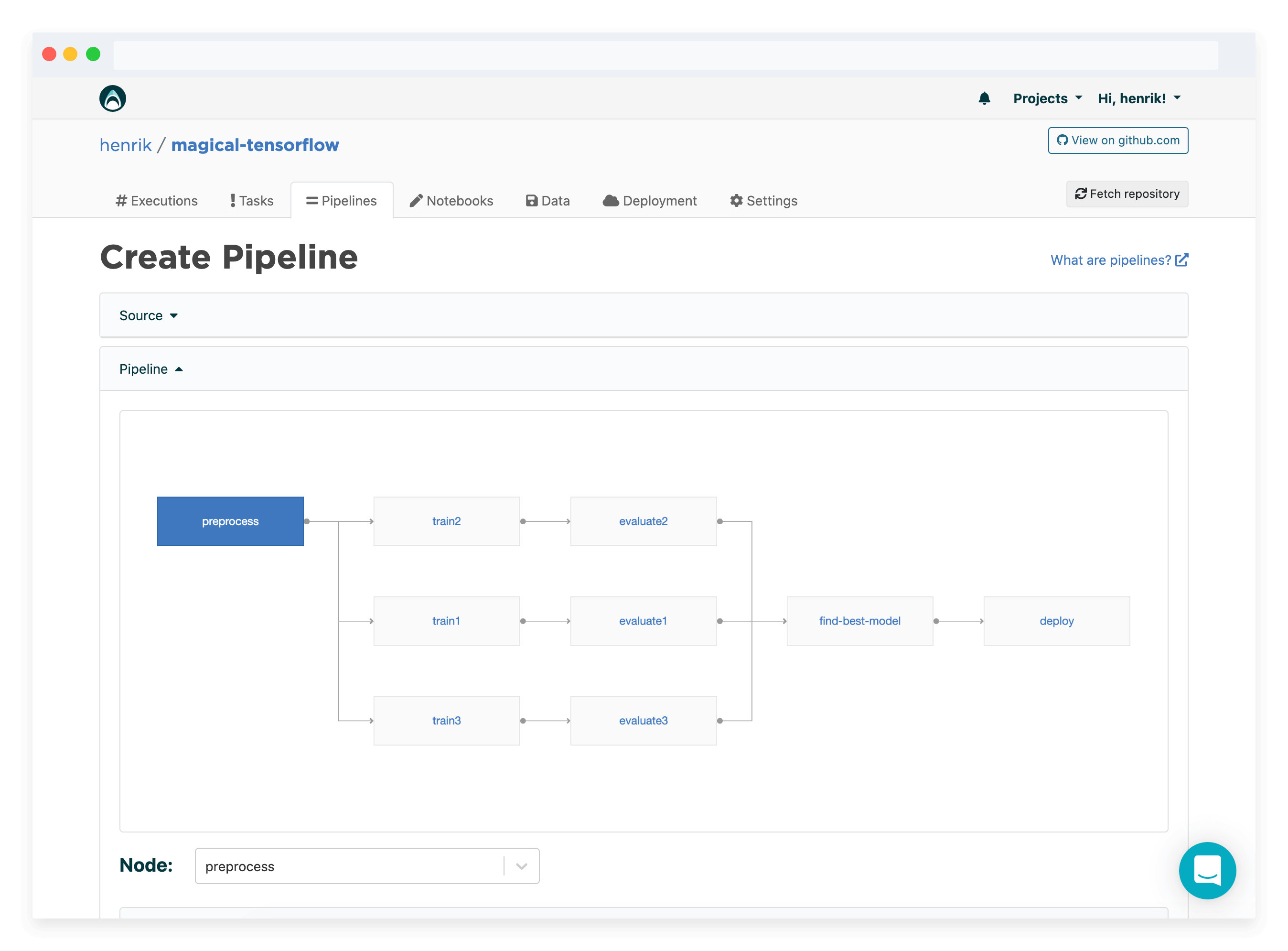 Automated Machine Learning Pipelines
Train, Evaluate, Deploy, Repeat. Valohai's streamlined machine learning pipeline ensures that steps integrate together, regardless of who wrote the code.
Combine Jupyter notebooks with datasets from Spark, augment your image data with Unity, automatically train 100 different models and deploy the best one – without touching a button. Pipelines can be integrated any existing systems through the API and pipelines can be triggered to retrain models whenever needed.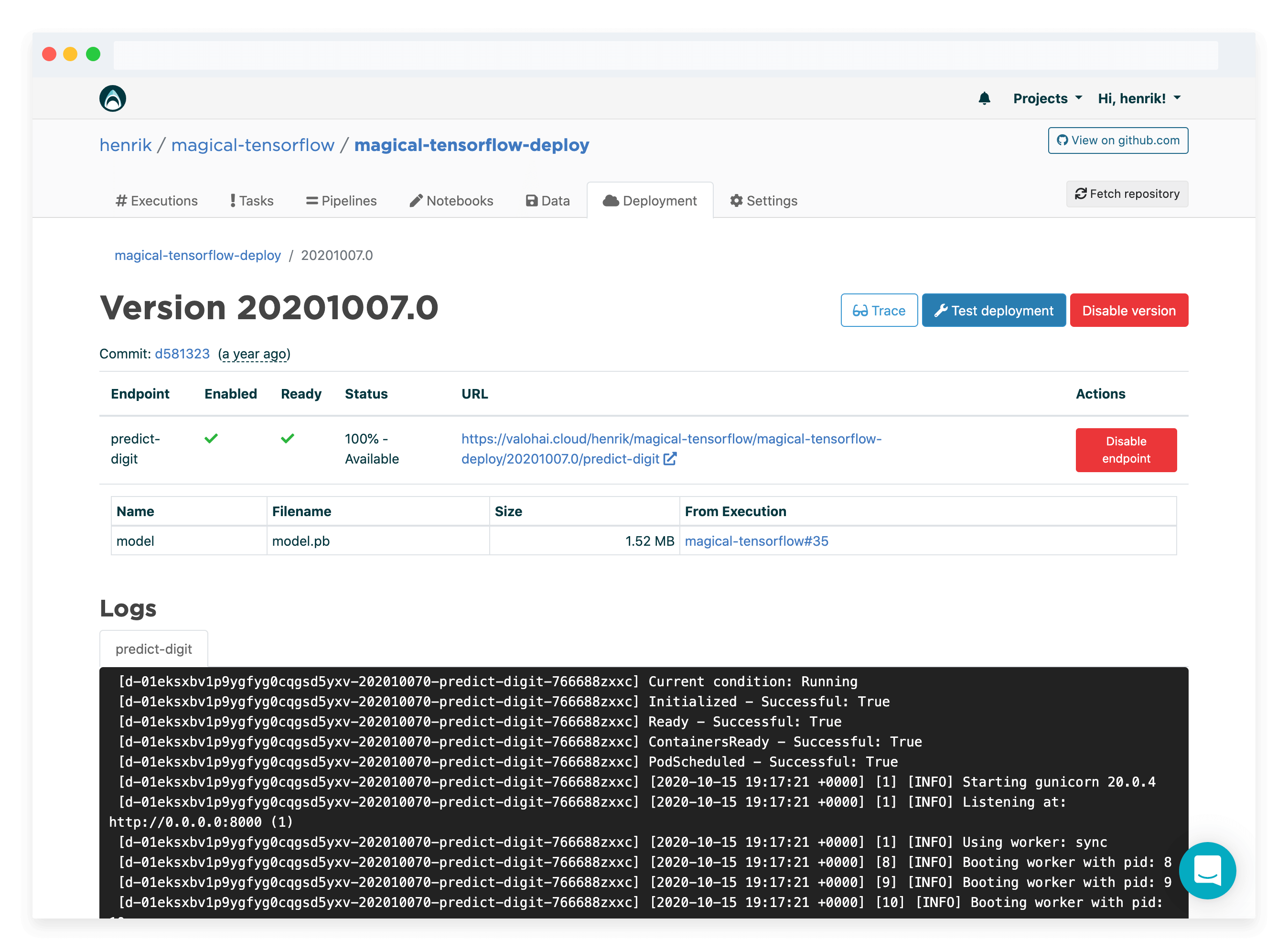 Model Deployment and Monitoring
Deploy on Kubernetes – Without Knowing Kubernetes. With Valohai, you can either manually or in a pipeline deploy models for production use.
No need to know how clusters work or what Kubernetes is – as a data scientist you just pick your code and model and Valohai will give you an HTTP endpoint you can use. You can also deploy several versions of the same model and monitor your performance metrics for easy A/B testing.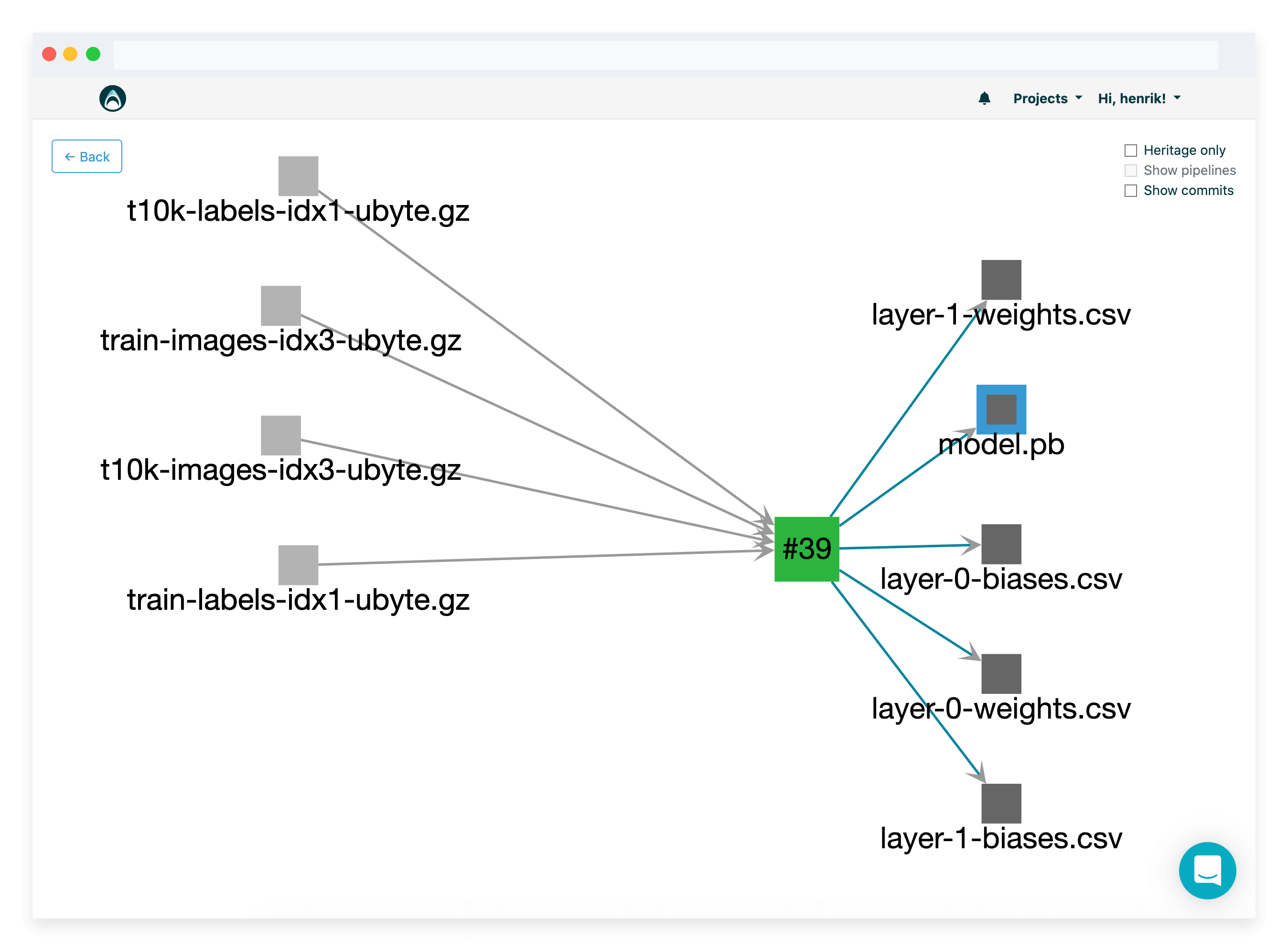 Versioning for Machine Learning
Knowledge Stored and Shared Automatically. Complete version control is the only way to achieve reproducibility and regulatory compliance. Valohai tracks every asset from code and data to logs and hyperparameters, and for every model, you can see the full lineage of how it was trained.
Everything you do in the Valohai platform can be shared with your team, and you won't have the need to maintain separate model registries or metadata stores.
Machine learning infrastructure that works makes you powerful – like a shark.
Valohai works with any cloud and on-prem setup, runs code in any language or framework, and is built API-first so you can integrate it however you need.
Book a demo
Request pricing
Ticking all the boxes ✅
Version control
Version control in data science is more than just code and binary data. In order to reproduce your experiments you also need to reproduce your hyperparameters, library versions and hardware. Valohai automatically stores all of this.
Version Control
Automatically version everything you run. Version control for machine learning is non-trivial compared to software engineering and a must for real-life ML.
Audit trail
Valohai tracks every experiment you and your team conduct, and you can see the lineage of experiments, data sets, code, parameters, and more resulted in your final model.
Experiment comparison
Pick any hyperparameter sweep or any amount of randomly selected experiments and compare them in a graph or table format. It's easier than you think!
Data dictionary
Valohai automatically creates a data dictionary out of all your input and output datasets. At the click of a button on any data asset it'll visualize the lineage of the data from original source to all transformations.
Read more
Model traceability
Pick a model in inference and see who the original author is, when it was done, what data&code went into it and redo it with the same parameters and environment at the click of a button. You'll even see the log files from the experiment months or years after.
Zero setup infra
MLOps is hard. Valohai makes operations transparent and easy so that you can concentrate on models, code and data.
MLOps out-of-the-box
Setup and maintain your ML infrastructure from one place, automate machine launch and shutdown to save costs and track every experiment. Don't waste time on ML grunt work and start building models today!
Read more
Git, local code and notebooks
Code in notebooks, scripts or shared git projects in any language or framework of your choice. Use any data storage on-prem or in the cloud. Use the tools you already use today, with 99% less hassle.
Hyperparameter sweeps
Visualize parallel hyperparameter tuning runs in real time, run large distributed learning runs at the click of a button and automate production-ready pipelines. All without breaking a sweat!
Read more
Hosted notebooks
One central hub for your Jupyter notebooks with asynchronous hyperparameter sweeps. Start one run, make changes and start the next. Roll back to your previous runs at any time and continue. Exploration is trial and error but there is no reason you should lose track of what you've done.
Jupyter notebooks & Valohai
Tool agnostic
Use the tools you love, across teams. Jupyter notebooks, PyCharm, VS Code, Tensorflow, Keras, Darknet, DL4J, Python, Scala, R and whatever tech your throw at it – it all works. (Because it's built on Docker!)
Hardware agnostic
Valohai Supports AWS, GCP, Azure, Openstack and any on-premises hardware.
API, CLI, and WebUI
Use the WebUI or the CLI for your daily work. Or expand functionality and integrate with your own CI/CD pipeline through the open API.
Read more about CLI
Read more about API
Pipeline management
After exploration and experimentation you will want to productionalize your work through ML pipelines. Valohai lets you build complex pipelines that you can automate.
Workflow automation
Data fetching, preprocessing, synthetic data generation, hyperparameter sweeps and deployment for AB testing of models are all possible cases in your ML pipeline. Valohai lets you define, run and maintain traceability for all steps throughout your lifetime.
Data Streaming
For datasets of 100Gb and larger, data streaming becomes an alternative – especially if for compliance reasons you're unable to host the data next to your computation units. Valohai lets you stream the data, start training and continue while the data is streaming.
Deployment
Valohai will deploy a chosen model inside your Kubernetes cluster. No need to know how clusters work or what Kubernetes is – as a data scientist you just pick your code and model and Valohai will give you an HTTP endpoint you can use.
Read more
Structured and un-structured data
Valohai works with both structured and unstructured data, from textual data to big data with 8K video streams. Or anything in between.
Team management
Standardized workflows across your whole team ensure transparency. Valohai lets you share projects between teams and organizations. Your super admins can monitor costs, resource usage and more at a project, team, person or single experiment level.
Shared projects
Machine Learning is team work, and you should be able to share projects easily. Valohai lets you build around projects that are accessible by you, your team or your entire organization.
Teams and groups
Valohai's access control works around the concept of teams and organization. Define an organization, invite people and manage who can see and do what. You can also allow only readable or writable data source for specific organizations. Anything is possible!
Monitoring
Monitor at a high level or check at a detailed level what your colleagues have been working on, so you don't do the same thing twice. Or why not just check what you did before the weekend to quickly pick up from where you left off.
Cost management
Valohai lets you drill down to the cost on every project, team and single experiment level. Know exactly how much money was spent and where!
Privacy
Valohai is an ML platform built for enterprises with privacy and security as driving principles.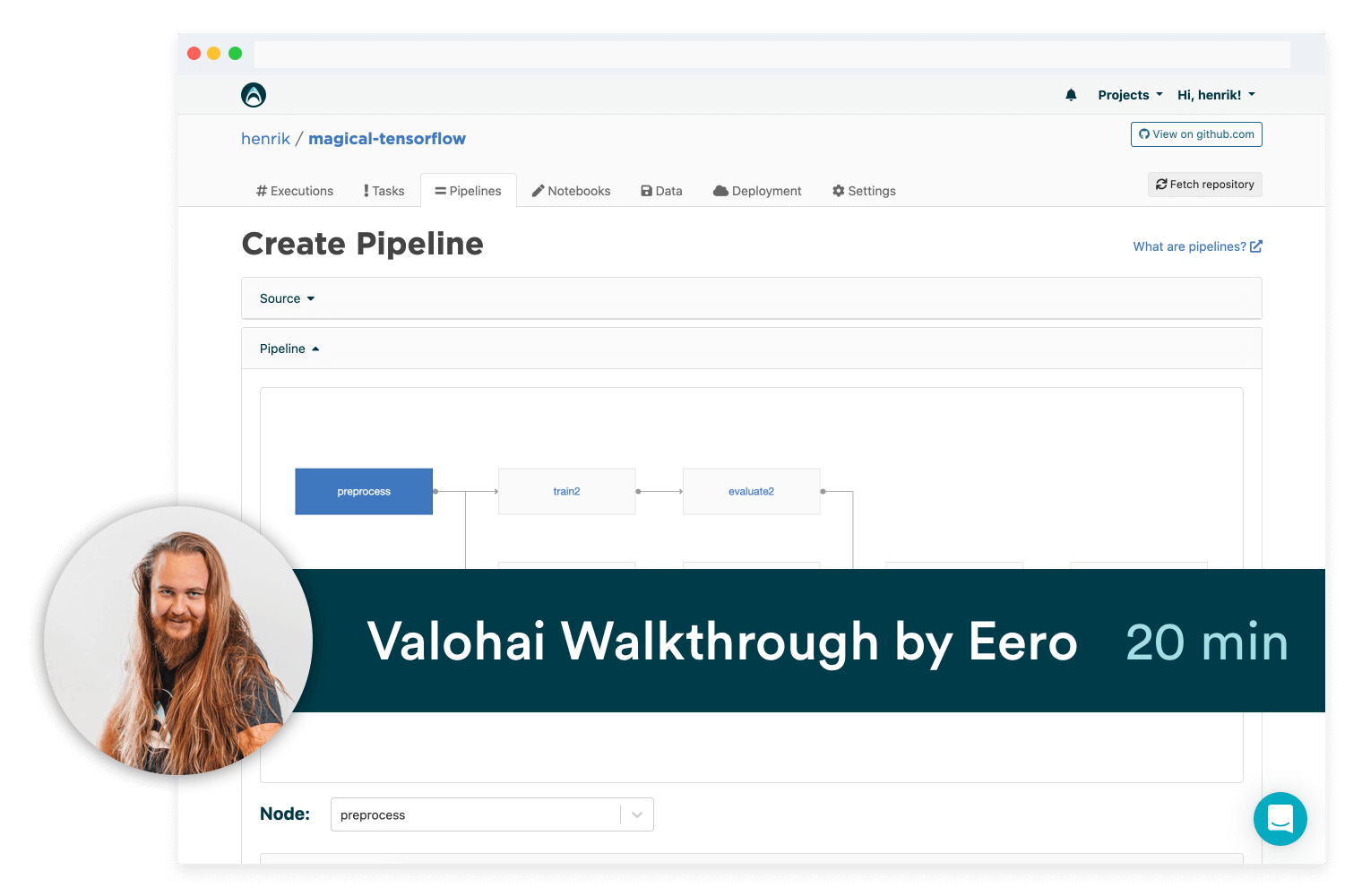 Dive in deep with Valohai in this walkthrough video
☑ Running Valohai from Jupyter
☑ Optimizing hyperparameters
☑ Deploying your model
☑ Running an automated pipeline
Watch the Valohai walkthrough
It's not bragging if it's true 📣