Blog
/
Top 7 AI Trends in 2022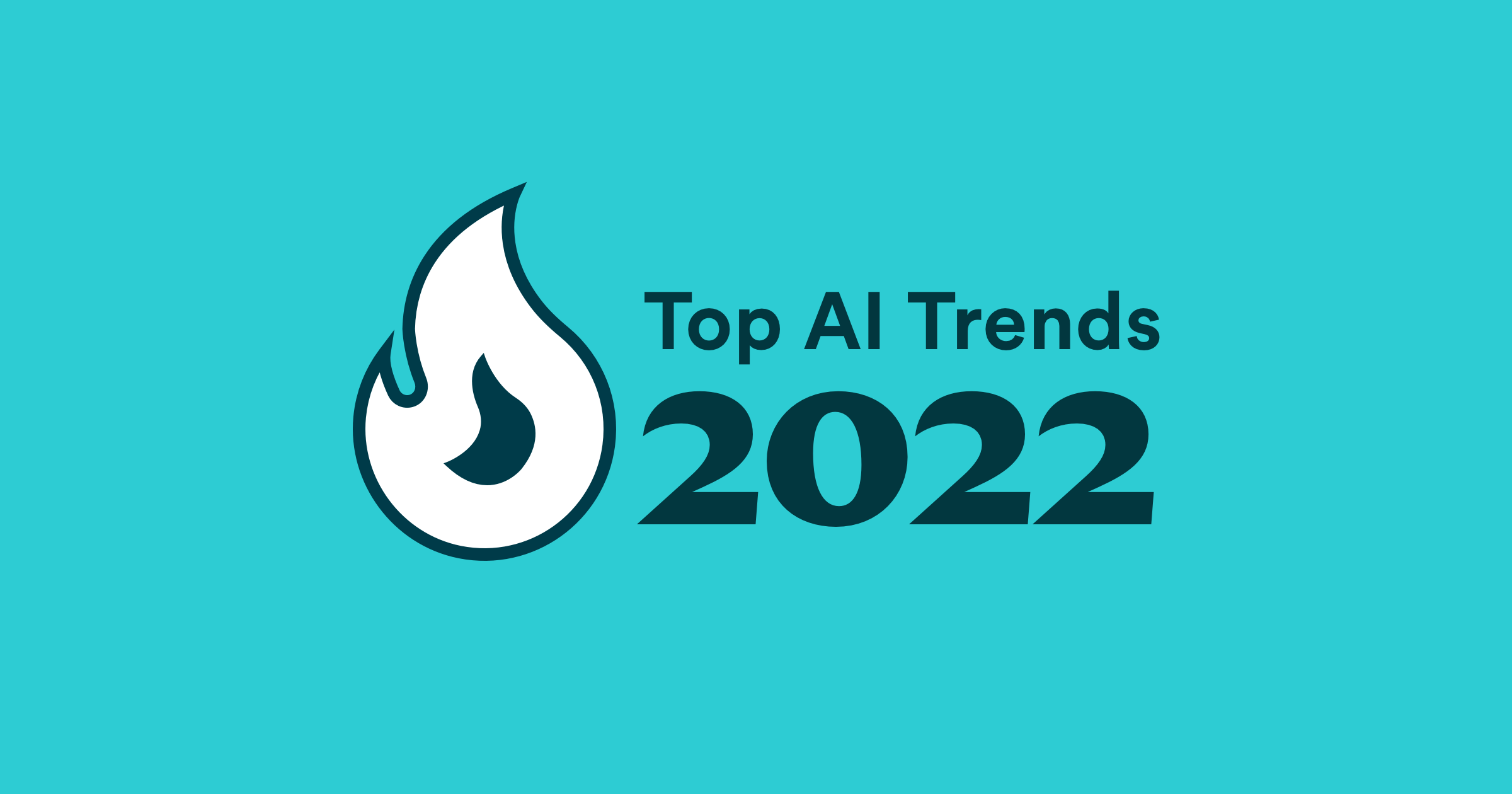 Artificial intelligence continues to transform society as the world makes advancement into the fourth industrial revolution. The powerful technology has the potential to create a paradigm shift across industries as clearly emphasized by business and IT leaders. Last year, the CEO of Google, Sundar Pichai, noted that AI will have a more profound impact on humanity than electricity, the internet or fire. Aside from tech and business leaders, researchers have also confirmed AI's potential transformational effect on society. A recent report by Harvard Business Review revealed that the COVID-19 pandemic accelerated the adoption of AI and data-driven innovation. According to PwC researchers, 52% of companies accelerated AI adoption strategy due to the pandemic. Also, a study by the AI Journal found out that 74% of business executives are convinced that AI will help create new business models and enable the development of new products and services.
In this article, we set out to explore the top AI trends and predict what we'll see pop in 2022.
1. Metaverse needs AI
Metaverse is a digital environment where users work and play together. This virtual world will deliver an amazing experience, created by users, for users. Facebook, for instance, has indicated interest in creating a Metaverse that combines its social media platform with a virtual technology. Artificial intelligence will play a prominent role in the creation of Metaverse. As users create this digital ecosystem, there will be scenarios where humans will interact with AI-powered machines to complete tasks in the environment.
2. It's time for Cyber AI
As artificial intelligence gains broader deployment, security teams will be faced with more privacy concerns and sophisticated cyberattacks. According to Deloitte, it's time to call for AI backup in 2022. Also, researchers recently found out that two-third of businesses believe that there is a need for AI-powered cybersecurity; infact, 75% of businesses are already testing or using AI for cybersecurity purposes. Cyber AI will be a force to reckon with, Deloitte noted, as AI will expand beyond its conventional applications to identify threats and detect anomalies.
3. The prominence of Hyperautomation
Hyperautomation is the process of automating every process that can be automated in an organization or a business. As noted in Gartner's top strategic tech trend for 2022, hyperautomation will gain more prominence this year as it is critical for any organization willing to keep pace with the ongoing digital evolution. And guess what? Artificial intelligence, machine learning and robotic process automation (RPA) are the major enablers of hyperautomation.
4. Advancement in Multimodal AI
Over the years, deep learning algorithms have trained models using one data source. For instance, a natural language processing (NLP) model is trained on textual content while a computer vision model is trained using a set of images. All these are based on a single modal AI where the results are mapped to a singular source of data type. With multimodal AI, various data types, e.g. image, speech, and text, are being combined to multiple algorithms to get more accurate outcomes. OpenAI's DALL-E is an example of multimodal AI; the model generates images from text captions for a wide range of concepts expressible in natural language. Other examples of multimodal AI include Google's multitask unified model, MUM, and NVIDIA's GauGaN2. In 2022, we will see the rise of multimodal AI with a rapid increase in the convergence of computer vision and language models.
5. Collab between AI and IoT
According to the World Economic Forum (WEF), the internet of things is powered by three emerging technologies namely; artificial intelligence, 5G and big data. In 2022, artificial intelligence will continue to present actionable insights in real-time to drive the internet of things at a much higher scale. As noted by the leading tech research firm, Gartner, more than 80% of enterprise IoT projects will incorporate AI in 2022.
6. Strict Regulation for AI
Regulators have expressed great concerns about AI's implications for fairness, inclusion, diversity, and privacy. For instance, machine learning, which is the fundamental concept behind today's AI, has come under significant scrutiny from regulators for its potential social bias. According to Deloitte, multiple studies have shown cases where AI-encoded bias has caused discrimination by race, income, gender and sexuality. Therefore, Deloitte recently predicted that regulators are likely to crack down on such cases of algorithmic bias in the months and years ahead. This is even more evident as regulators get a better understanding of data security implications of emerging AI applications. Besides, AI regulation is now a form of competition at the geo-political level. Companies operating in any nation that sets the global standard for AI regulation will gain competitive advantage over companies operating in other nations. Therefore, the race to set that standard will get more intense in 2022 as we also witness an increase in the debate over the ethics of responsible AI.
7. Low or No-Code AI
The dearth of skilled AI engineers is a great challenge facing organizations today. Just as we witnessed with the development of no-code or low code web and mobile app development tools, there will be similar solutions to fill the gap created by inadequate AI engineers. In 2022, we will see an exploration of no-code AI systems that will provide intuitive interfaces to create smart apps with pre-built modules.
We've written about no-code AI and MLOps before, you might want to check that out.
Wrap Up
Artificial intelligence has established itself as a core part of digital strategy. There will be a new surge in emerging AI applications for individuals and enterprises. In this article, we explored the trends that will shape the AI world in 2022. Businesses that invest in ML and AI will champion new frontiers of innovation. At Valohai, we help companies operationalize their machine learning research. Our MLOps platform empowers your team to automate everything from data extraction to model deployment. If you're looking for a productivy boost, check out our platform here!
Free eBook
Practical MLOps
How to get started with MLOps?